Entrevues
Saskatchewan Weekend with Shauna Power ∙ CBC ∙ 22 mai 2021
www.cbc.ca/listen/live-radio/1-205/clip/15844825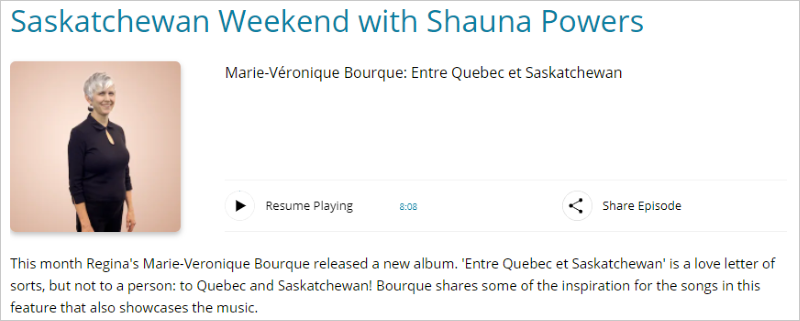 L'eau vive / Musique ∙ Estelle Bonetto ∙ 21 mai 2021
leau-vive.ca/Arts-et-Culture/batir-des-ponts-en-musique-avec-marie-veronique-bourque


Culture et confiture ∙ Radio-Canada ∙ 1er mai 2021
ici.radio-canada.ca/.../culture-et-confiture/.../marie-veronique-bourque-saskatchewan-flute-entre-quebec


CASHBOX Canada ∙ 1er mai 2021
cashboxcanada.ca/features-music/...marie-veronique-bourque...


Pour faire un Monde ∙ Radio-Canada ∙ 30 avril 2021
ici.radio-canada.ca/.../pour-faire-un-monde/.../marie-veronique-bourque-lancement-disque-jazz


The Talk of the Town with Lisa Peters ∙ Avril 2021
youtu.be/KrGwU4OSLnI
À venir
Global News Morning Show ∙ Global
Mai 2021
Ils ont dit
Tantôt rythmé, tantôt plus mollo, mais toujours captivant, cet album, Entre Québec and Saskatchewan, nous offre surtout une belle musicalité. Un univers jazz doux et généreux, avec quelques bons petits textes, dont on se doit d'y tendre l'oreille.

Marc Lalonde, chroniqueur, Quebec-Pop
The bands are super tight and the sound is great. It sounds amazing. Vocals are warm and close and emotive and sexy!!! There is a real retro, 1970's, cool vibe going on. Velvet tuxedos and dry martini...
Lisa Fitzgibbon, Producer, Pro7ect Creative Director, United Kingdom
Gostei muito do seu trabalho, e como é contagiante ficar ouvindo sua música. Você tem um talento incrível e por isso a perfeição dessa música. Harmonia musical está perfeita, o Jazz é um estilo musical que só cresce no mundo todo e você representa perfeitamente bem esse estilo musical.
Celso Teixeira, Ceo. Setemusic, Brasil
Un timbro di voce particolare ed una voce coinvolgente ......un brano da ascoltare complimenti Marie è stato un buon ascolto.
Frequenze Musicali, Journalist, Italia
À propos de Rues désertes:
I really enjoyed this track! You play the flute beautifully, and the whole track was very tasteful and musical[...] I will share with anyone who is interested in jazz, and in particular, young jazz musicians, who I think would be very influenced and inspired by your work!
Noel Chambers, Mentor, United Kingdom
À propos de Rues désertes: Très belle qualité ! Un morceau très touchant. un son magnifique. une très belle idée.
Jacques Pauper, Couleurs Jazz Média ∙ France
À propos de Bossa pour un temps difficile: I appreciate the energy and the rhythm (...) Thanks for your music.
Nicola Cirillo, You must be the change, Italy
À propos de Bossa pour un temps difficile:
Beautiful jazz and bossa atmosphere song. It's like a hug in these difficult times[...] Your instrumental reminds me of the Tom Jobim and Elis Regina album. :) Great song!
Marília Feix, Journalist, Brazil
[...]we all really enjoyed your album. Your music is light and leaves us with a feeling of tranquility. For us Brazilians, it is very reminiscent of the bossa nova climate in Rio de Janeiro, the sea and a lot of joy. Congratulations on the work!
Galaxy Media, Brazil
À propos de Bossa pour un temps difficile:
A wonderful and classical track that we'd like to have on our jazz playlist.
Sinusoidal Music, India
À propos de Rues désertes:
[...]ce fut un réel plaisir d'écouter ce titre.
Side Project, Supervision musicale, France
First of all, as a carioca, your music made me feel at home! I love the bossa nova vibe and the tranquility of the instrumental music, and I sure can say that it sounds super Brazilian! In the second listening, loved knowing that it was made as a gift for your friend in a rough time, it definitely makes me feel warm and welcome into it!
Janelas Sonoras, Media, Brazil
Nous aimons beaucoup votre univers. Nous aimerions effectivement en faire profiter nos auditeurs.
Frequence Mistral, France